---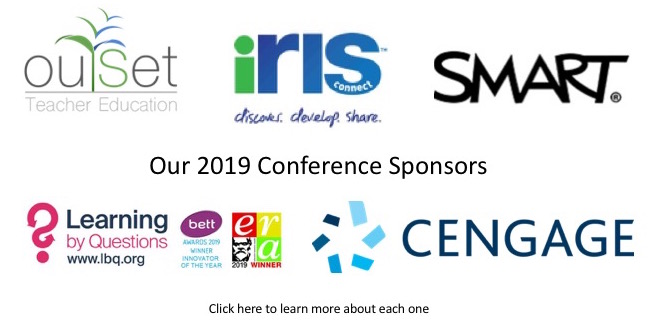 ---
A richer curriculum? Creating a culture of opportunity in a digital world – Winchester
---
What's the point of a conference?
Jon Audain, Emma GoTo and Christina Preston
Organising a conference is exhausting when you are fitting it into spaces in your day job.
Indeed, about two days before our Technology, Pedagogy and Education event in Winchester in July, Emma, Jon and I wondered if we could keep up the pace! Was it really worth the effort?
Small, but perfectly formed
Yes it was! Bob Harrison, a member of long standing, Chair Northern College, Lostock High School and Trustee of UfI, captured the atmosphere we had aimed to create. "Don't expect a big auditorium and split screen lapel head micro-phone speakers being talked at by 'experts' on a stage. You can, instead, expect stimulating and provocative inputs in a small, but safe, diverse community where views, opinions, research, case studies and horizon scans are shared openly within a network of passionate and compassionate like-minded professionals."
Whereas Bob knows what to expect, Tahirih Danesh came to our conference for the first time. She observed that "following from large scale events in London, such as CogX, at first, the cosy atmosphere of Winchester University's 33rd annual gathering seemed somewhat removed from the fast turning tides of the revolutions technology and education are affecting all around us. But soon the presentations imparted much insight, knowledge and experience, turning the two-day gathering to a feast of meaningful consultations on the symbiotic relationship between technology and pedagogy in advancing the discourse on education".
---
The positive potential of social media
Tahirih Danesh's contribution, Raising a Violence Free Generation, Education, Technology and Character, was important in the positive message she communicated about the potential value of social media. She focused on accompanying the new generation to continue to create a violence-free world. She offered a few concepts, influenced by the impact of the parallel processes of destruction and construction shaping the emergence of our global consciousness and community throughout the past two centuries. Participants to consider the possibility of us having the right and the responsibility to approach this moment in our collective life with a posture of learning; that character education lies at the heart of human prosperity; and that technology challenges us to take advantage of the best of humanity, by critically reflecting on whether we train our characters to fit the societies we have created or do we create societies that allow our characters to develop for the best?
Her presentation had particular value for us at the start of a new professional grouping because she highlighted the fact that societies are composed of communities, organisations and individuals, highlighting the primacy of individuals in terms of impact in stable, as well as conflict or post-conflict settings.
Her conclusion was important in its message proposing that EdTech has created spaces where education is no longer confined to those from around the corner, but those from other continents, cultures, classes, or creeds. This shift in inclusion and diversity calls for a coherent education curriculum, one that enables the learner to use their powers to develop their inherent capabilities coherently in line with internal and external dynamics, in order to engage in lifelong processes that strengthen agency, through ideas, expressions and actions that pave the path for the full and sustainable development. The positive potential of social media here was central to her message that resonated with all of us.
Powerful pedagogy
Amongst the conference reviewers, Imane Tiahi, one of our newest members, praised one of our keynote speakers, Professor Mike Sharples who has just published a book, Practical Pedagogies, 40 new ways to teach and learn https://www.routledge.com/Practical-Pedagogy-40-New-Ways-to-Teach-and-Learn-1st-Edition/Sharples/p/book/9781138599819
Central to the TPEA members interests, Practical Pedagogy expands the universe of teaching and learning. Mike spoke about new and emerging innovations in education, with insights into how to become more effective as a teacher and learner. For new teachers his talk offered a comprehensive introduction to innovative ways of teaching and learning. Indeed, Imane found his talk about "powerful pedagogies for a digital world." inspiring. She was particularly struck by the notion that 'pedagogy should inform technology'.
The many experienced educators in the audience were surprised by the range of useful pedagogies, such as translanguaging, crossover learning, teachback, bricolage and rhizomatic learning. Policy makers heard evidence of how new teaching methods work in practice, with resources for curriculum design and course development.
Click the image below to see the presentation.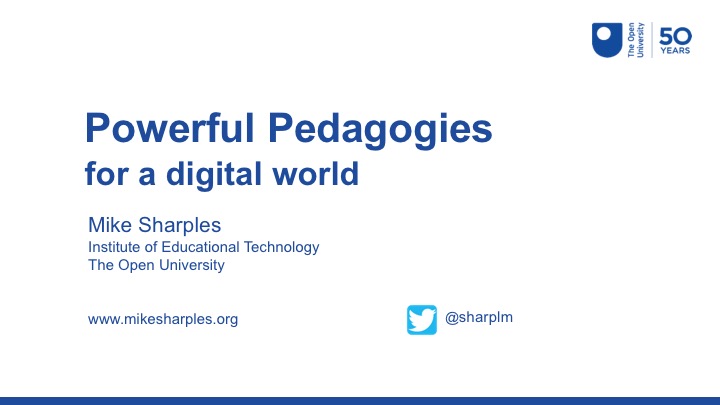 A rich mix of topics
Dr Liz Hidson, a lecturer at Durham, spoke eloquently of the interesting mix of presentations. "The research nurtured and shared in our community has been fascinating, ranging from a review of the early history of computing education in the UK to the practical application of mathematics in a game programming course. The benefits of experience and context have allowed us to engage with research that touches on our shared interests – we may not all be teaching programming or training teachers but the converging issues of technology and pedagogy are central to our education community. We had digital storytellers, SEND specialists, sociologists and school leaders, united by the appreciation that technology can facilitate learning in ways that are simply not possible without it."
What Liz found most humbling was the realisation about the power of partnerships underpinning what we do. If we accept that nothing is neutral (Hart et al, 2004), then neither technology nor pedagogy are neutral, and we have a responsibility to support the ecology of EdTech companies, teachers and researchers. Professor Marilyn Leask proposed that subject associations must square this triangle. It is not tenable for companies to come to market with technology that has not been subject to the checks and balances provided by research and practice. There must be collaboration, and we were fortunate to hear from organisations being proactive about this. Liz has recently been awarded her doctorate and you can see her thesis here.
Edtech can be a challenge in classrooms
Dai Thomas, Warden Park School, talked about a common theme which was Continuing Professional Development (CPD) and the new Early Career Framework (ECF) developed to help tackle the issue of poor recruitment and retention. He drew attention to the challenges that EdTech causes for teachers who are also learning. "My role develops Ed Tech use over a busy but small academies trust and it is difficult to transition new teachers into post when their experience of the use of Ed Tech is limited to a small unit developed by their ITT provider. The student teachers practice schools also make a significant impact, some newly qualified teachers having no real experience of using Ed Tech in the classroom as their practice schools were fairly traditional. Damian Hinds, Education Secretary (at the time of finishing this piece now replaced by Gavin Williamson) seemed to be an advocate for Ed Tech but seemingly only as a "magic bullet" to solve teacher workload'.
Co-researchers in schools
A common theme at this year's conference was that of how those in academia can start to re-engage strategically and directly with teaching schools and in particular the twenty-three research schools that have been established in partnership with the Education Endowment Foundation (EEF) and the Institute for Effective Education (IEE). This network is set to grow with the aim of all teaching schools becoming research schools. Based on his conference observations John Sibbald came up with some valuable questions we should be asking as a long standing community with a new name, Technology, Pedagogy and Education Association(TPEA):
What does effective research look like in research schools?
How can the TPEA support schools with different research methodologies?
How can the TPEA's rich knowledge-base be shared more widely with school?
How can the TPEA influence the approach of the EEF and the IEE?
Who do we need to talk to?
How can we make this happen?
Preparing for life
The associate companies at the conference were articulate in their input. David Jaffa, Chief of Crazy Ideas at the Jaffa Foundation's explained that their mission is to promote the life skills that young people need to flourish. "We are building a curriculum around the economic ranking of skills and looking for collaborators. Together, we can help produce a generation of world-beaters". David has videoed his conference talk: The life skills to flourish are very predictable.
The other companies at the conference all had messages about support for young people's learning: Learning by Questions, Cengage and Outset. Peter Clark, SMART, and Graham Newell, IRIS Connect, worried us with the message that they were promoting England in the EU in the absence of our government representatives.
What a laugh!
Chris Waterman, the Political Adviser on Children and Young People for the Liberal Democrats, managed talked about the amusing side of politics and education which deflected us from too much negativity both in his session and as after dinner speaker at our conference dinner. As TPEA is a 'new' organisation he sent us a suggested logo and a song to sing at our opening ceremony. We will keep you posted.
---
Click here to read full reviews.
---
Click here for the conference website.
---
Thanks to Chris Waterman for this amusing logo and song which goes to the tune of… Can you guess?