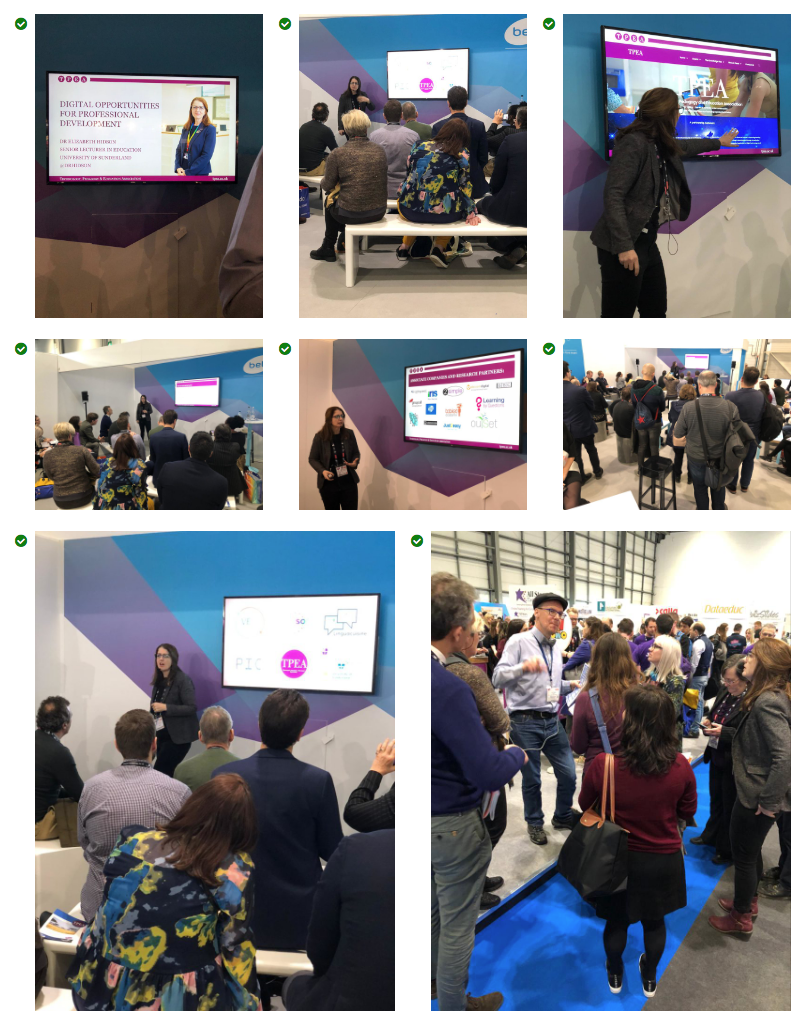 The TPEA's presence here this year was an excellent opportunity to network with follow EdTech enthusiasts, catch up with companies carrying out interesting research and talk to teachers, school leaders and educational professionals about the importance of using technology in a responsible, research-informed way.
Our stand was themed with our safari branding: our commitment to the voyage of discovery through the technology desert in order to find oases of organisations as committed to research-informed practice as we are. Our approach was not one of promotion, but one of highlighting products that had a basis in research. The positive outcomes of this were the number of people ready and willing to walk and talk and ask questions, free of any effort at a sales pitch. It is possible to advocate for technology without being seen as pushing a product – this seemed to be refreshing for many Bett-goers.
TPEA had several talks over the duration of the Bett show. My own was on Thursday 23rd January and I spoke about:
Communities of practice

Technology for reflective practice

Micro-learning opportunities
I see these as three key aspects that underpin the types of EdTech that are most useful for CPD. The slides from my presentation are embedded below.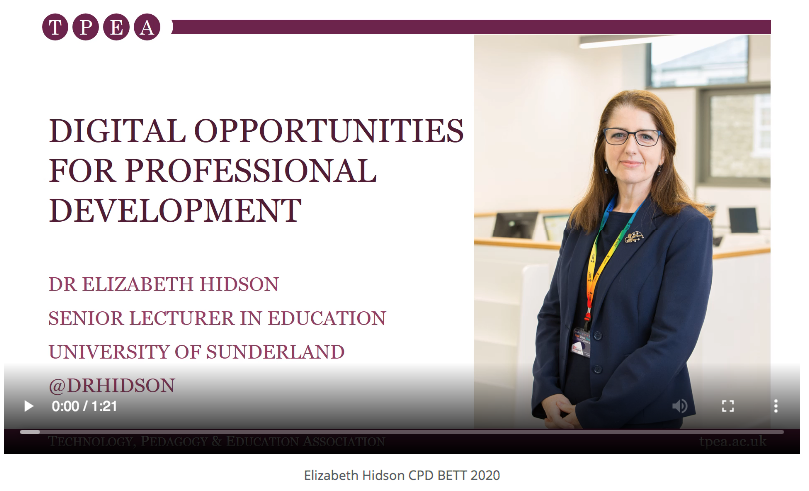 Research shows that most of the traditional CPD that teachers experience is ineffective and does not transform practice – it has little impact back in the classroom or the learning space. My own research interests involve understanding how teachers must develop continuously in order to keep pace with changes on many fronts, for example the 2014 shift from ICT to Computing, which necessitated the upskilling of teachers to teach Computer Science, often for the first time. I am also interested in researching not just about technology, but with technology – as technology pervades every aspect of modern life.
Continuous Professional Development (CPD) is therefore vital. It needs to be done throughout one's career (Day & Sachs, 2005), on the job and with access to knowledgeable others (Fullan, 2007) and is important in terms of professional identity (Davey, 2013). We know that CPD is important. Technology addresses the need for ongoing, connected and collaborative learning spaces. We need to look at this through the lens of EdTech.
In my talk, I shared my background in schools and as a researcher, and that of TPEA / ITTE / Mirandanet, linking back to the days of Becta, E-Learning Credits, BSF, the SSAT and AST activity. We need that level of professional criticality even more today in a time of austerity. We need to share our knowledge, encourage criticality and a questioning approach. We need to be asking how the technology supports the pedagogy and not assume that technology is always the answer – we really need to know what the question is – what the learning objective is – before we can begin to apply a technology solution.
I'm a teacher…what do I need to know about CPD and EdTech?
Teaching, learning, supporting others, researching;
Bring together these three EdTech areas for CPD;
Be the architect of your own professional learning;
Gain institutional support if possible;
Not just the what, but the how and the why;
Maintain criticality and remember the 'Bananarama Principle' (Professor Steve Higgins);
The CPD shopping list in a time of austerity.
Bett this year allowed us to have these critical conversations. Elated and enthused by the experience, the TPEA committee members are reviewing and revising their approach to making time and space for this level of collaboration… and redoubling our efforts to have the conversations with both education professionals AND EdTech companies. We don't need snake oil but we do need EdTech solutions to meaningful, practitioner-inspired questions. Where Bett-er to begin these conversations than at Bett?