Developing Computer Science pedagogy through shared lesson resources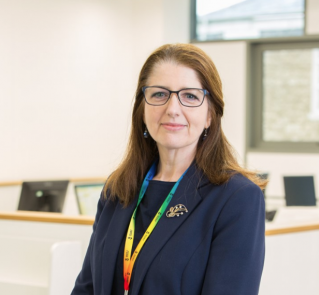 On 3rd November Dr Elizabeth Hidson gave a talk at the Digital Technologies for Education Special Interest Group at the University of Northampton. 
Dr Elizabeth Hidson Senior Lecturer in International Teacher Education, University of Sunderland
The recording of the event (53 mins) is available to view.
The slides from the session are also available to download.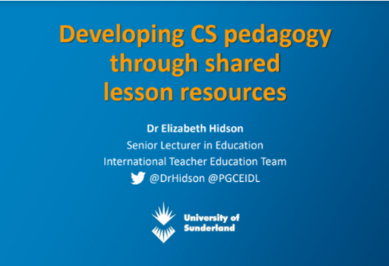 At the heart of any teaching resource is an unheard narrative: the decision-making process that the teacher has gone through in order to develop the resource for the students that they teach. This is built from a range of knowledge sources accessed by teachers from the start of their career, which develops over time. In this session we will focus on in-service ICT teachers faced with the 2014 English National Curriculum shift that now required the teaching of Computer Science. We will see how their pedagogical knowledge was enhanced through shared lesson resources and professional communities of practice.
Elizabeth started her career in education as an IT teacher, progressing to ICT Advanced Skills Teacher, Lead Practitioner in ICT and later to assistant and deputy headteacher senior leadership roles in schools. Moving into academia, she has been an educational technology researcher as well as teaching on PGCE, MA and doctoral training courses at Durham University, Newcastle University and the University of Sunderland. Elizabeth's research interests involve technology and pedagogy, and the use of digital and visual research methods.
Staff profile: https://www.sunderland.ac.uk/about/staff/teacher-training-and-education/elizabethhidson/
Selected publications
Hidson, Elizabeth (2021) Pedagogy by proxy: teachers' digital competence with crowd-sourced lesson resources. Pixel-Bit Journal of Media and Education, 61 (May 21). pp. 197-229. ISSN 1133-8482
Hidson, Elizabeth (2020) Internet Video Calling and Desktop Sharing (VCDS)as an Emerging Research Method for Exploring Pedagogical Reasoning in Lesson Planning. Video Journal of Education and Pedagogy, 5 (1). pp. 1-14. ISSN 2364-4583
Hidson, Elizabeth (2018) Video-enhanced lesson observation as a source of multiple modes of data for school leadership: A videographic approach. Management in Education, 32 (1). pp. 26-31. ISSN 0892-0206